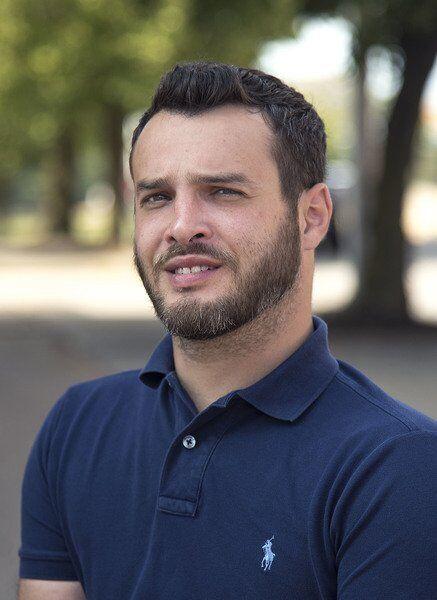 Winning a state championship is so lofty a goal that most coaches won't even talk about it.
Carlos Bradberry does.
One of his main goals before each season is winning a state championship, something Niagara Falls has only done once since the district merged into one high school in 2000. In fact, for all the great Niagara Falls players and teams, the city only has five total state championships to claim.
It's the most difficult achievement any team can accomplish. But Bradberry is confident and blunt. He also loves Niagara Falls. He lives and dies with each call, his emotions as visible as any of his players' and he's heavily invested in the program year-round.
When the Wolverines' season came to an abrupt end one win short of advancing to the state final four with a 66-59 loss to Victor on Saturday, Bradberry was crestfallen, just like his players were.
The former LaSalle star, who once went toe-to-toe with Syracuse All-American and NBA first-round pick John Wallace, waited to lead Niagara Falls for years, and even though he doesn't have a state championship yet, it's obvious that the Bradberry and the Wolverines are the perfect fit.
In Bradberry's first three seasons, Niagara Falls has gone to three sectional championship games, winning two. His first season, there was no opportunity to advance farther as COVID-19 canceled the state tournament.
After losing Saturday, Bradberry may have been sad, but he didn't pout and his confidence wasn't shaken. He believes a state championship is coming.
"We weren't picked to get out of Buffalo," Bradberry said. "I knew we were a little bit better than that. It was a really good run, we were a team that exceeded expectations, but we just fell a little bit short of what our goal is."
Coaching, especially in high school, has become far too often about catchphrases, cliches and secrecy rather than teaching the quotes they regurgitate to all who will listen.
Bradberry has one catchphrase — Falls Way — and it's appropriate. The Falls Way started long before Bradberry coached or played. Toughness, defense and confidence have recycled through the program year after year.
Most Niagara Falls students share all the same financial and demographical challenges as the Buffalo or Rochester city schools, but there is a reason for its prolonged success. Similar to Rochester East, Niagara Falls has a lasting program because coaches have built a program on structure and discipline and those are not negotiable.
The Wolverines might use athleticism, speed and toughness, but it's confined to a system that refines those traits rather than playing a run'n'gun style that makes winning solely dependent on how talented the players are that year.
A coach who is able to do that must understand the backgrounds of their players. The Niagara Falls poverty rate is almost double the national average, while the median household income is almost $30,000 below the national average. Some players don't get the same nutrition and others don't get the same routine as more affluent kids.
Bradberry is able to understand the challenges of his players and knows how to speak to them in a way that nets respect. It might sometimes lead to profanity and or an arm around the shoulder during other times.
When Bradberry does bark at a player, he is equal opportunity. In fact, his best players often take the brunt of his wrath. But his cussing never comes without explanation and encouragement. He yells to make them better, and if a mistake is made, he takes the time to instruct. The respect comes when players listen and rarely snap back. When they do, there are consequences.
Most of Bradberry's detractors don't get to see that side of him. They just see the guy hollering at officials on the sidelines and believe that defines him. They don't get to see him seek input from assistants or how engaged he is during practices.
Those are the traits that can eventually lead Niagara Falls to a state championship, even though it has never been more difficult. The depth of talent has diminished since the merger because crime and pursuit of better jobs have pushed the city's population to lows not seen since before the Great Depression.
Niagara Falls loses James Robinson — perhaps the program's best pure athlete since Paul Harris — to graduation, but Bradberry still believes because of the way his program is built. Assistant coach Sanquin Starks started a youth AAU team in the city to bring structure and feed the program for the first time in years. and players want to play for Bradberry.
"We're building the right way," Bradberry said. "(Darryl) Smith, John Strong and (Kayvon) Agee had to play some big minutes (against Victor), and to me, that shows we have a bright future. Those are are three ninth-grade kids who gave us some big minutes. … Obviously we would like to take one more or two more steps, but we're getting to where we want to be."
The path to winning a sectional title gets a little easier when Niagara Falls and Lancaster are the only two schools to bump up to the newly-added Class AAA next year, so the people who root for somebody — anybody — to knock off Niagara Falls might be waiting for a while.