SANBORN — Ryan Birchard has made plenty of decisions over the course of his career. Yet, it hasn't always been as easy as deciding how to strike out an opposing batter.
The first major curveball came as a senior at Auburn High School two years ago when he left seven Division I offers, ranging from Canisius to Richmond on the table.
Knowing the reality that very few true freshmen see actual playing time on a Division I diamond, the right-hander elected to commit to Niagara County Community College instead, one of the top Division III JUCO programs in the country.
Now, as he prepares for a second and final run with the Thunderwolves against Camp Community College in the NJCAA Division III World Series at 9:30 a.m. Saturday in Greeneville, Tennessee, there's another decision that Birchard has to make before time runs out.
After decommitting from UConn earlier this month, Birchard must balance within the next couple weeks the pros and cons between pursuing Division I baseball next spring or entering the MLB draft on July 9, a childhood dream.
"Trying to do whatever is right for me and my future, you know?" Birchard said. "If that means going to school another year to get drafted, maybe (get selected) a little higher, I might have to do that. But if I think the time is right now, then, I wouldn't have a problem stepping away from the classroom."
The trepidation is similar to what Birchard experienced early in his freshman season in 2022, before he bought into head coach Matt Clingersmith and the Thunderwolves have built over the last 17 seasons in Sanborn.
And then came what Clingersmith still calls Birchard's "coming out party" as a closer during the team's Region III championship run.
Clocking a fastball at 96 mph, Birchard had two huge appearances out of the bull-pen. First, in three innings in relief, Birchard struck out eight batters and recorded a save in the Thunderwolves' 3-0 win over cross-town rival Erie on May 19 in Little Falls. He returned as the closer three days later in the Region III Tournament championship game against eventual national champion Herkimer when he struck out six batters and allowed just one run in four innings of work for a 9-8 victory.
One year later, Birchard has effortlessly transitioned to the top of the Thunderwolves' starting rotation and leads the team in wins (7), starts (8), appearances (9), innings pitched (44) strikeouts (83) and ERA (1.23). But it's not the numbers or how he is used that matters to him — he just wants to go out on a high note and win.
As this is his second straight year and NCCC's third straight year competing in the tournament, Birchard said the team has "unfinished business" to settle, fueled by watching fellow Region III team Herkimer go from receiving an at-large bid and winning the national title.
"Unfortunately, we went two and out down there, something we didn't plan for and hope never happens again," Birchard said. "I think what's big for us, we go down there, win (the) first game (and) I think we'll be alright."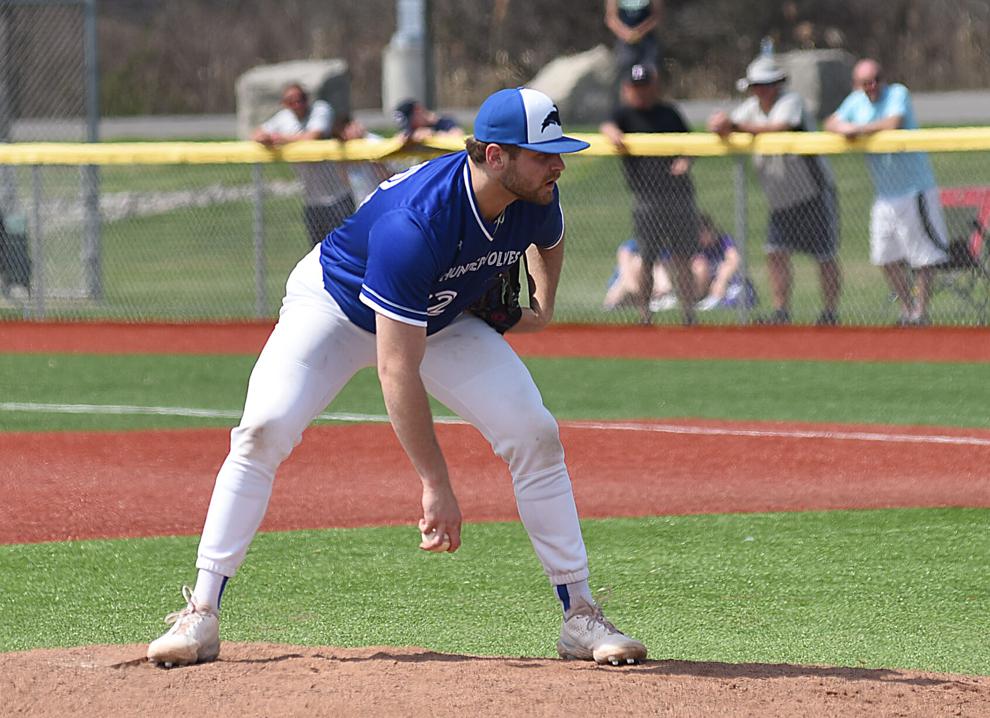 Since his time began with the Thunderwolves, Birchard's velocity has increased. His main pitch, the fastball, is now averaging 93 to 96 mph, and even went as high as 98 mph this spring. Add in his slider and curveball to his arsenal and Birchard has baffled opposing teams all year, striking out 10 or more batters in five starts, including a season-high 13 in a regular season meeting with ECC on April 15.
Clingersmith knew the Thunderwolves were getting a "special" player in Birchard when he committed as he competed in the New York State Future Games back in 2019 and was one of the top ranked players in the entire state. Clingersmith has led the Thunderwolves for the past 17 seasons and has watched seven players continue in the minor leagues and six selected in the MLB Draft. But he's taken notice of Birchard's work ethic, who is known for staying as late as 9:30 p.m. some nights working on his craft in the gym, even using medicine balls to improve his movements and velocity for when on the mound.
"This kid meets the definition of character, I believe, and that is to do what you're told when no one's looking and this kid does it," Clingersmith said. "... He's starting to become mentally strong as well and confident. And when you get that type of kid with that type of velocity, it becomes scary."
Within weeks, Birchard now has to decide whether to continue his career at the Division I level — he recently decommitted from Connecticut but said he is receiving interest in Oregon, UCF, Missouri State, Kentucky and Louisville — or pursue his childhood dream and enter the MLB Draft on July 9.
"You got to buy in," Birchard said. "You got to be in the weight room, got to do extra work, when nobody's watching."