DEPEW — One team has to flinch first.
Unfortunately, it did not end the way Niagara Wheatfield had envisioned its appearance in the Section VI Class A1 championship game going after accomplishing plenty this spring, including the top seed in this year's bracket.
An RBI double from Mississippi State commit Ella Wesolowski in the top of the seventh inning, combined with an eight-strikeout performance from junior Grace Kessel was the recipe No. 2 Williamsville East needed to take the crown in a 1-0 victory Wednesday at Cayuga Heights Elementary in Depew.
The Falcons had looked forward to the opportunity to face the Flames for a third consecutive year in the postseason and had plenty of momentum following a 17-1 rout against West Seneca West in A-1 semifinal play Tuesday at Niagara Wheatfield High School.
Despite the loss, Niagara Wheatfield head coach Kevin Schucker said both teams left it all out on the field.
"We had great pitching, great catching (and) we played great defense," said Schucker of the Falcons' performance. "And, you know, we just couldn't get the key bunts or key hits when we needed them."
Whereas a strength all season was cashing in on bringing home base runners, the Falcons left six runners on base against Kessel, including in the bottom of seventh to try to tie or win the game. A two-out double off a bloop hit to left field from senior Brianna Jones was an empty opportunity as Kessel regrouped and struck out freshman Emma Hurley to seal the victory.
As Williamsville East celebrated its seventh Class A1 crown dating back to 2015, head coach Bri Clark tipped her hat to the Falcons program after the game.
"Niagara Wheatfield had a great team," Clark said. "... It really could have went either way. But our girls really stepped up. … It was like a pitcher's duel. And both teams had good hits. Overall, great athletes for both teams."
Coming off a five-inning, four-strikeout outing against West Seneca West Monday, sophomore Gianna Graber was putting together another strong outing as she allowed just two of East's four hits up to this point. The Falcons let their defense go to work, forcing the Flames into ground-outs and fly-outs heading into the decisive seventh inning.
The lead-off single in the frame from sophomore Abbey Wesolowski was enough for older sister Ella to drive in the game's lone run with a double to deep center-field.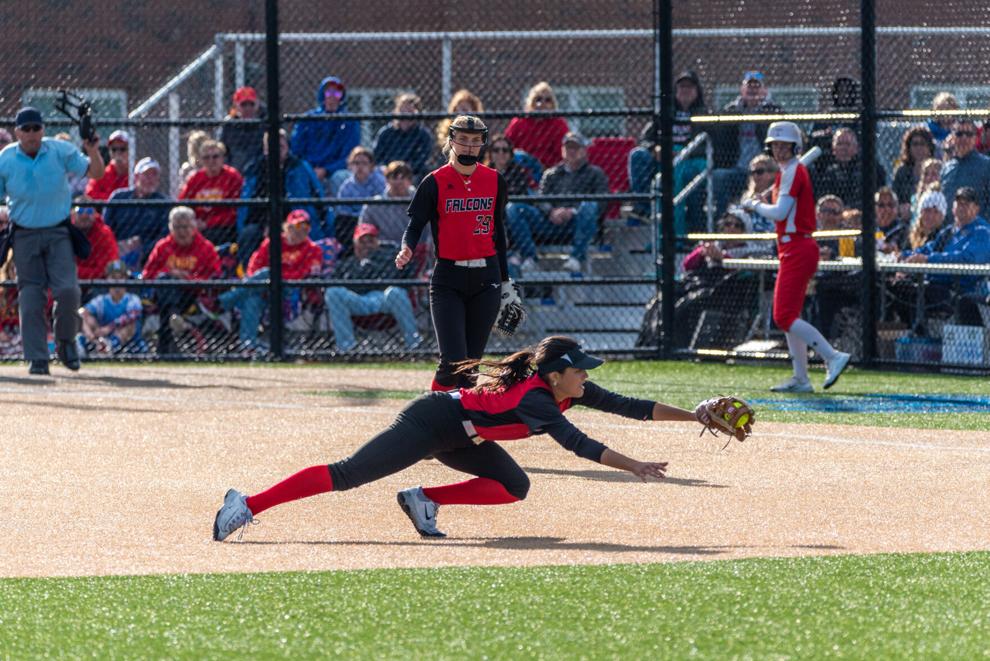 Schucker said he had a discussion with both Graber and freshman catcher Maris Huff on whether they wanted to walk the elder Wesolowski and put two base-runners on with no outs. Instead, the tandem wanted to go right at the Flames' top hitter, which he said, after the game, was "a good call."
Huff credited the chemistry she and Graber — who recorded five strikeouts in the loss — have developed dating back to playing in travel leagues together. Her calming presence behind the plate has played a key role in the Falcons rotation this season.
"I always know working with my pitchers what (pitches) they have best for them," said Huff, who also delivered one of the Falcons' four hits in the game with a fourth-inning single. "And what I know always works for them, even if they are off a little."
With only four seniors graduating, the Falcons bring back plenty of underclassmen including junior first baseman Julia Kwitchoff and freshmen Lindsay Tylec and Hannah Idzik.
But before turning the page, Schucker appreciates what this current team did, dating back to their trip to Myrtle Beach in early March.
"They had each other's backs all season long," Schucker said. "And, this team, they were loose, but they were focused and they brought it every single game… They (gave) an awesome effort."
In the victory, Ella Wesolowski finished with a team-high three hits for Williamsville East while teammate Ofelia Comerford recorded a double. The Flames will now face the A2 champion, West Seneca East, in the Class A crossover game at 7:30 p.m. Tuesday at Depew High School. The Trojans defeated Williamsville South in the A2 final, 1-0.
Niagara Wheatfield finishes with an 18-3 record.
In other Greater Niagara Region sectional softball action:
Clarence 1, Niagara Falls 0
An RBI triple from Madey Ferriter in the bottom of the second inning proved to be the game-changer for No. 2 Clarence against No. 3 Niagara Falls in the Class AA semifinal matchup.
Clarence (13-6): Ella Zobel threw a complete game two-hitter and struck out nine batters for the Red Devils. In addition to scoring the deciding run, Ella Harrison recorded two hits. The No. 2 Red Devils will now face No. 4 Frontier in the Class AA championship game at 5:30 p.m. Tuesday at Depew High School. The Falcons knocked off top-seeded Orchard Park, 2-0.
Niagara Falls (12-5): Pitcher Ava White closed out her junior campaign by throwing six innings and striking out 10 batters along with throwing four hits. Chy'Ann Wright and Molly Syposs recorded a hit apiece at the plate.
Sherman/Clymer 19, Barker 6
An eight-run fourth inning helped the No. 6 Wolves move past the No. 2 Raiders and advance to the Class D championship game.
Sherman/Clymer (12-5): Sophomore Janelle Burchanowski had three hits along with a home run in the sixth inning. Freshman Elli Bodamer recorded three hits at the plate while going the distance on the mound and striking out eight Raider batters. Sherman/Clymer will now travel to No. 1 Westfield for the title game at 5 p.m. Tuesday.
Barker (15-6): Kaylee Stoll and Natalie Brandel each had two hits offensively as part of Barker's 11 total hits. Rachel Sutter recorded an RBI double in the second inning while Aaliyah Wheat recorded an RBI single in the fourth. In the circle, starter Mady Flint recorded four strikeouts while freshman Peyton Bradley added eight in three innings of relief.