A wide-eyed Justin Gilmore scanned the Louisville locker room and saw stars.
Teddy Bridgewater, DeVante Parker, Preston Brown, Gerod Holliman — all future NFL players.
But what made the Niagara Falls native's jaw hit the floor was when they discussed their high school football experiences. They were nothing like Gilmore's and he couldn't understand why. Why couldn't his home area have the same intensity and same passion for high school sports as the other major recruiting hubs in the country?
Gilmore decided he needed to turn his efforts towards helping local kids see there is more to the world beyond their city's limits. Although a Niagara Wheatfield graduate, Gilmore crafted a relationship with Niagara Falls Superintendent Mark Laurrie to bring former teammates and classmates in for camps. He helped set up a night game at his alma mater before a capital funding project resulted in lights.
But Gilmore also had a talent like few others and decided to use it to communicate his vision to kids and coaches in a way they could grasp completely.
While his father, Anthony, was an assistant coach at Canisius High School, Gilmore saw there were programs in Western New York who took football more seriously than the rest or at least a step closer to the stories he heard from Louisville teammates.
Now a filmmaker and owner of a production company called Matthew Synclair, Gilmore followed the Crusaders around for an entire season to create an 11-part documentary called Victory Formation, which began streaming on Amazon Prime Video this week.
Victory Formation comes in the same mold as popular high school football series like QB1, Titletown High or Last Chance U, only this one puts the spotlight on Western New York football, for good or bad.
"I want kids in Western New York to know they can do whatever they want to do," Gilmore said. "Sport is a great vehicle for that. You don't have to be a star, you don't have to play all the minutes, but learning to work together as a team, to cheer on teammates and learning to be responsible — all these things are so valuable. and it brings people together."
When Gilmore began filming with MountUp Media and Tanner Probus Visual in 2021, he had a specific vision. At Canisius — with brief glimpses into the St. Francis and St. Joe's programs — Gilmore wanted to show how invested the school and coaches were in athletics and how they were able to move players on to play collegiately at a high rate.
Players not only go to school and go through extensive practices during the week, but then they have to go home — some traveling 45 minutes — and complete their homework, because all of the schools involved require the same devotion to academics as they do athletics.
"You have an obligation to (kids) to use football to help further their life in the farthest way possible," St. Joe's head coach Mike Corona said. "But I think on the flip side of that, you have to understand what are the things that interest kids and families at that age. How can you use that interest to help them open up to a wider world that they will care about as they get older?"
Coming out of Niagara Wheatfield, Gilmore says that he and his father had to do most of the legwork in his recruitment. Before programs like Hudl existed, the Gilmores had to create their own film samples to send to college. But he also now recognizes that it's not a Western New York problem, but a statewide issue.
New York is the fourth-largest state by population, but has produced 11 recruits in the ESPN 300 football rankings over the last decade, with all of them coming from the five boroughs of New York City. Western New York, meanwhile, has delivered three ESPN 100 basketball recruits — Jonny Flynn, Jordan Nwora and Roddy Gayle — since rankings began in 2007.
The biggest issues in lack of recruiting come from areas outside of effort. The 15 top-ranked public school football programs in the country by MaxPreps average 2,653 students. Section VI's biggest school, Niagara Falls, had 1,951 students last year and the most consistent public football power in the area, Lancaster, had 1,737. Less competition creates fewer standouts.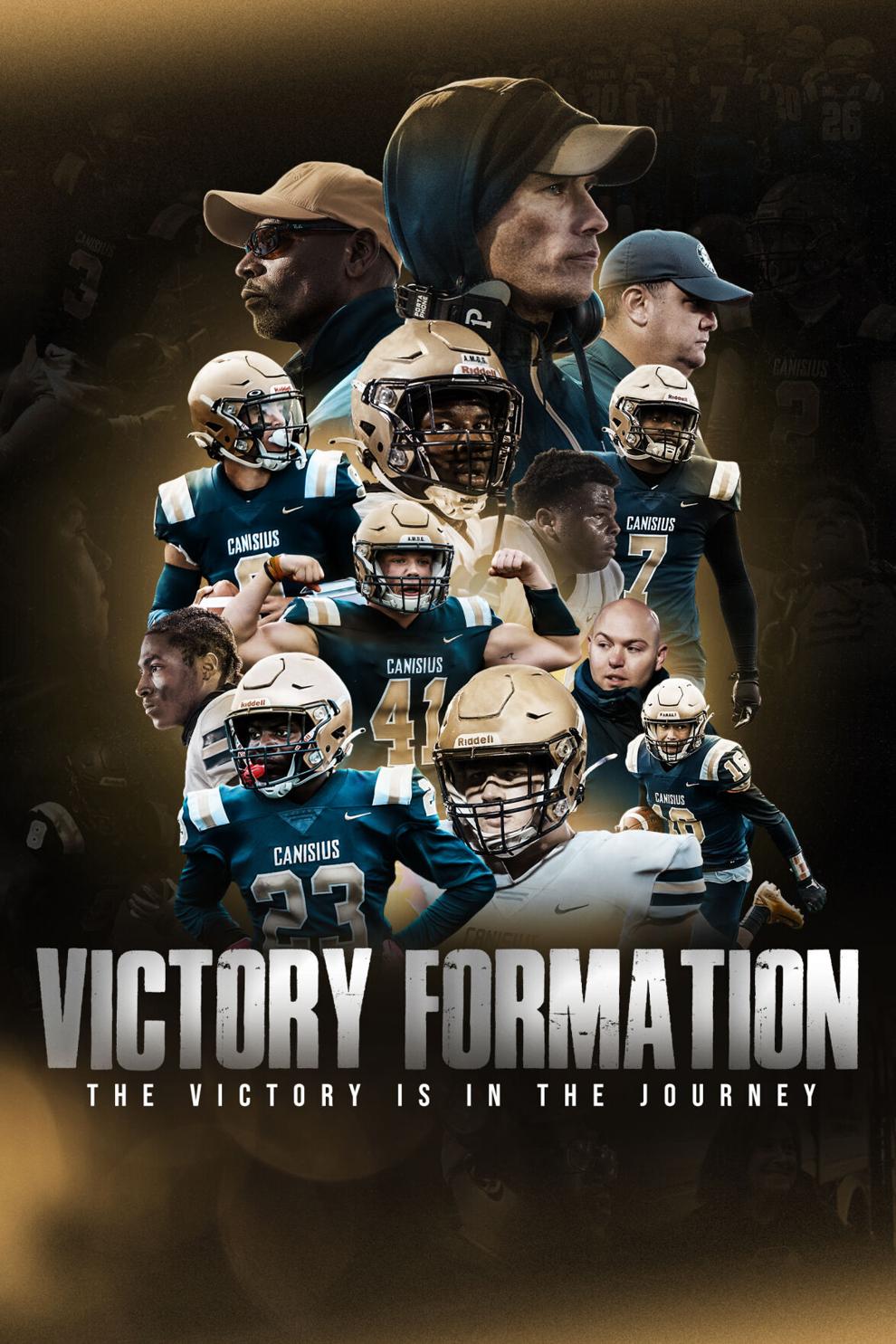 But Gilmore also knows that with the right care and commitment, strides can be made. He's seen it. Gilmore grew up in the heyday of Niagara Falls basketball. The 2005 squad was a comet and a team that has seven Division I athletes is once in a generation, but the school produced at least 15 Division I athletes in a span of 15 years.
Niagara Falls was a must-see attraction during that time and Gilmore's goal is to create more support for athletes and coaches around Western New York, because he believes the talent is there.
"I wasn't a star or anything like that," Gilmore said, "but I played with some people that were and I know what that looks like. So I'm able to share what DeVante Parker did. I know what Teddy Bridgewater did, I know what Gerod Holliman did — I know what it looks like. You're that, too, if you just put yourself to it."
While New York is not a national football hotbed, Canisius athletic director Jim Mauro sees the benefit of being presented as one and to have the school's efforts to send kids to college highlighted.
Mauro was impressed with the quality of the documentary, although his protective nature as an administrator kicks in when it comes to kids — Lockport native and current Navy quarterback Tyler Baker is among the featured stars — and coaches participating in a tell-all piece.
Filming also took place during a time when Canisius was transitioning. Rich Robbins had just resigned after making the program one of the best in the state and longtime assistant Bryan Gorman took over. Most of the coaching staff, including Gorman and Gilmore's father, are no longer with the program.
"Twitter is a constant self-promotion these days of my highlights, my this, my that," Mauro said. "So, to have something like a docuseries where you're highlighted, I'm sure that that's appealing in a lot of ways. … As the administrator, I don't know if I feel 100% comfortable that coaches are going to say things that might be taken the wrong way, players might say things taken the wrong way. We live in such a touchy society of how words and that are portrayed."
But because this was a project formed through passion, Gilmore didn't want to create a glowing, fluffy story or create some highlight reel. Gilmore wanted a raw presentation of the program and how players juggle football and academics throughout a grueling season.
"This is very raw, this is very real," Gilmore said. "So I think some schools are going to be scared because I'm filming the coaches behind the scenes. So now that the show's out, all the kids get to see what the coaches said, so if they weren't honest with them — some of them weren't — they might not be most comfortable with that. Some schools would be like, 'Oh, this is a lot.'"
Gilmore is currently working on other projects, but he has not ruled out attempting another series focusing on local high school sports.