To last 23 years as a Division I basketball coach, one needs to have inclination for moving while still building relationships that stick.
Since graduating from Grand Island High School in 1990, Carlin Hartman has moved 15 times, including 12 since beginning his coaching career in 1996. Hartman also has the relationships to match, mentoring NBA all-star Trae Young and college stars Brady Manek and Khadeem Lattin.
His ties are also tight in the coaching ranks, as Hartman was hired as the associate head coach for recently-hired Todd Golden's staff at the University of Florida in March. Hartman held the same position for Columbia when Golden was on staff from 2012 to 2014.
This is Hartman's third coaching job with a Power 5 school, working for Oklahoma for five seasons and UNLV last year. It will also be the third time in his career that Hartman is officially listed as the top assistant, but he has never been a head coach. He believes Florida is the program to get him to the next level.
Not only does Hartman consider Florida to be a national championship-caliber program and Golden to be a rising star in coaching, but he sees the potential of it elevating him to a head coaching job befitting of his ability. Not that he's in any rush.
"I've been in so many situations that I know I'm ready and I know I'm built for that particular moment to run my own program," Hartman said. "But for right now, this is my calling. This is where I should be, this is where I need to be: at Florida, with Todd and taking all the experiences I've had over the years and bringing them to him."
Judgment in choosing the next destination has always been a strong suit for Hartman, even dating back to picking Tulane coming out of high school. After scoring 1,518 career points for Grand Island, Hartman had offers from a slew of local schools, while Seton Hall and Wake Forest made last-ditch attempts to sign him.
But there was something about the school in New Orleans that stuck, despite a point-shaving scandal that was unearthed in 1985 that led to the abolition of the program for three years. Hartman bet on himself and the school, finishing in the top 10 all-time in scoring, rebounds and steals at the school, while serving as the team's sixth man in NCAA tournament upsets of Kansas and St. John's.
Those who remember the 6-foot-7 Hartman from his playing days likely see the same intensity and mannerisms on the sidelines now. He coaches his players hard and respectfully, because that's how he played.
"I want our players to play like that," Hartman said. "... A respect all, fear none type of way about themselves. I take a very active approach in the sense of constantly talking and chirping. There's never any berating and calling them a name, it's just wanting them to be as good as they possibly can and we're going to push them to the end."
Knowledge has certainly accrued along the way, but Hartman insists there hasn't been any change in his personality or coaching style since the beginning. Rising up the coaching ranks, Hartman became known nationally as a recruiter at Oklahoma and then earned praise for his mentorship of young stars and in-game coaching at UNLV.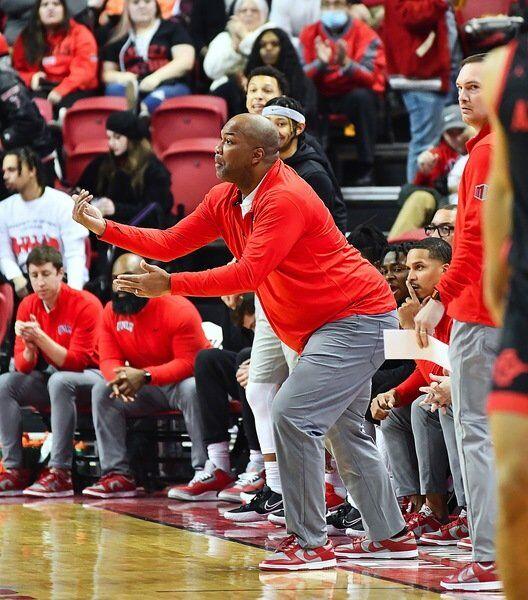 Hartman attributes the new notoriety to the prominent programs and the effect of being on the staff of top coaches. At Oklahoma, Hartman was an assistant for Lon Kruger — who will be inducted into the Collegiate Basketball Hall of Fame this year — and then at UNLV for Kruger's son Kevin, who is considered one of the budding coaching stars in the country.
"The biggest thing is that a coach and a school brand can change the perception of who you are as a coach," Hartman said. "... When I got the Oklahoma job, it just shed a different light on who I was as a coach and a person. When you're working under somebody like Lon Kruger, the perception of you as a coach and as a person changes. I think it's a natural thing that happens."
The next natural evolution for Hartman, ideally, would be reaching his first Final Four and parlaying that success into a candidacy as a head coach for top jobs. He says there have been offers from smaller programs in the past and The Oklahoman reported he interviewed for the University at Buffalo when Nate Oats bolted for Alabama in 2019.
If what he deems to be the right job at the right time arises, Hartman has been blunt in saying he would listen. Hartman will take into account the prospective school's conference, resources, view on the new Name, Image and Likeness rules, and cost of attendance.
But because the decision also impacts his wife and son, Hartman said he "will be selective." And he already views an associated head coach at a program like Florida to be the equivalent of a head coach without final say.
"I just won't settle," Hartman said. "… Whoever hires me is going to be getting a very experienced assistant coach who has never called his own plays, but somebody that has had so many different experiences that the transition won't be as different as somebody in their mid-30s. I won't need as much of a grace period."
Nick Sabato can be reached via nick.sabato@gnnewspaper.com or on Twitter @NickSabatoGNN.