EDITOR'S NOTE: This is part four of a four-part series on Main Street's future. To read the first three parts, visit our website.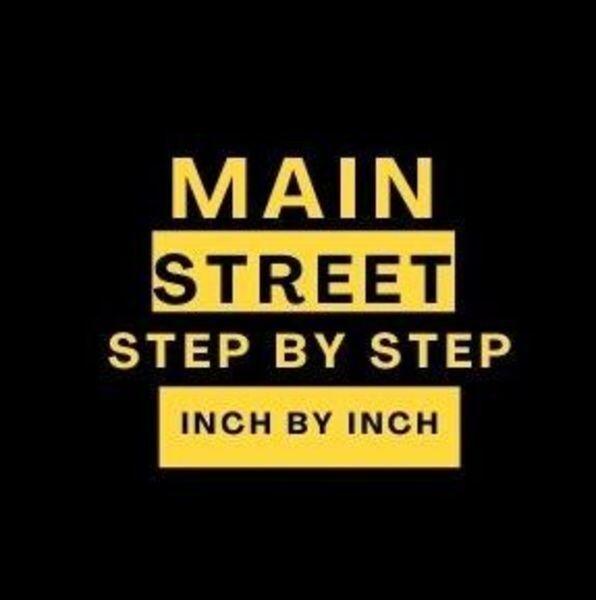 It happens more often than not. When developers come into blighted neighborhoods to create elegant, high-end spaces, it forces out those who eventually can't afford to live in their own neighborhoods.
While many developers don't even pretend to care about the low-income residents, the Buffalo investment company that is leading the revitalization of Main Street with a 2019 acquired portfolio of 40 boarded properties, has already begun to address the concerns of the low-income residents on Main Street, while still aiming at financial success for its efforts.
Robert Richardson, the president of Blue Cardinal Capital of Buffalo, says that while it's very important to have community support, the restoration of the Bridge District and its heartline of Main Street, the project must attract higher-end businesses and residents for the efforts to be of value to his company and the community.
"I've had some conversations with activists and community leaders and they ask me if I'm going to take community input, and the honest answer is yes and no," he said. "The honest answer is everything from Main Street to Whirlpool has to pay the freight and that doesn't necessarily mean that everybody can have what they want."
"The investor mindset has to prevail there. We have to get the most for that space that we can, but that's not where we stop. We move east from Main Street," he said. " I really think 11th Street is going to be a place of action."
COMMUNITY INPUT
Richardson has asked two community leaders, the Rev. Darius Pridgeon and Ezra Scott, to create a committee that can recommend improvements that could occur on 11th Street.
"We are not going to proscribe what happens on 11th street," Richardson said. "My only condition is they be advised by the world-class level of people that we're advised by. We've hired a team to work with the committee, and (the committee) will submit their recommendations. We will listen and participate as much as they want or as little as they want. But 11th Street really has got to be their vision and it's gotta be integrated with what happens on Main Street and west."
Pridgeon, the pastor of True Bethel Baptist Church, located in the former Sacred Heart parish on South Avenue, which is creating new low-income housing from an old rectory, school and convent on his church's property, has some thoughts about a nearby vacant lot.
"My greatest concern is the big empty lot right at Cleveland and 11th," Pridgeon said. "I would really love to see something there."
Ezra Scott, the other leader of the citizen's committee, said that he is hoping for a recreational center for young people and maybe a center for entrepreneurship or jobs training. 
"That's one of the things I'm looking forward to with Blue Cardinal is the job opportunities they could potentially bring," he said.
Several community leaders agreed that at least Blue Cardinal is making an attempt to listen to the community.
Brian Archie, a community activist and co-chair of Creating a Healthy Niagara Collaborative, is worried about the gentrification that often occurs in urban development projects, where the poor are pushed out of their communities as higher-end housing and commercial districts are created.
"I would hope as investors, they stay the course, and we don't end up with this organization coming in as prospectors and we are left again with the short end of the stick," he said about Blue Cardinal, adding, "It seems the sentiment is there. We'll see what occurs."
SOME SUCCESSES
As drab and depressing as Main Street looks today, there are already some outstanding successes nearby.
Many agree the new Amtrak train station is a bright and beautiful part of the many moving pieces that could lead to the revival of Main Street.
Inside the station is the Niagara Falls Underground Railroad Heritage Museum, a tiny jewel of a museum featuring details about the local heroes who risked their lives to help freedom-seeking slaves.
The museum was created and funded by the Niagara Falls National Heritage Area, a congressionally designated local zone with the mission of preserving, protecting and promoting the region's history.
"We feel like our investment was a small part in creating reasons why Main Street is so important and how can we rebuild one step at a time along the way," said Sara Capen, director of the region's National Heritage Area.
In addition, the removal of the Robert Moses Parkway, torn down after more than 20 years of passionate advocacy from community members including the Niagara Heritage Partnership led by environmentalist and author Robert Baxter, has opened up the gorge to the neighborhoods that used to be blocked from the greenway by expressway lanes and fences.
Since the mile-long strip of the north Robert Moses was removed and natural landscaping enhancements added, the greenspace has drawn hikers, bikers and picnickers to the area, to the benefit of at least one local business. 
The parkway improvements have dramatically improved customer traffic at DiCamillo Bakery's headquarters, on  Linwood Avenue just off Main Street, according to Michael DiCamillo. "It's never really been a tourist spot but it's becoming that and we're rising to the occasion as best we can."
The family-owned bakery, which is receiving $250,000 from the $10 million grant that New York state has awarded to Niagara Falls through the state's Downtown Redevelopment Initiative, will be using the money to create enhancements and draw visitors from both the parkway and Main Street. 
"We're seeing people coming from the parkway up Linwood Avenue. They seem to be on tours or biking or walking."said DiCamillo, who sat on the DRI committee of local business, nonprofit and community leaders to advise the state on where the DRI award money should go. 
"I keep telling my brothers I wish dad and my aunts and uncles could see the traffic in the store," DiCamillo said. "Every morning there's more people on the parkway."
WHO GETS THE CREDIT?
Things are percolating in the Main Street Bridge District. Mayor Robert Restaino meets regularly with Robert Richardson of Blue Cardinal, to get updates and maintain communications.
Restaino said trends show many are starting to prefer the vibrant experiences of urban life to cookie-cutter suburban experiences offered by suburban malls and neighborhoods. "We've come back to realizing that the most important thing we can do to make urban life exciting is to reinvent Main Streets the way I knew them when I was young," he said. 
During a recent walkabout of the Bridge District, he detailed the many pieces that must come together to revive Main Street, and his confidence that improvements will become increasingly visible over the next few years.
Most agree that, if the restoration of Main Street's Bridge District is a success, it will be the result of hard work by many through the past few decades.
Activist Dan Davis, who has been advocating since 2009 for historical recognition of the Suspension Bridge Village and its rich history as one of two entities including the Village of Niagara Falls, joined in 1892 to form the City of Niagara Falls.
Davis, who started the Niagara Community Forum and a non-profit to further his Suspension Bridge Village vision, successfully lobbied for the village to have its own recognition within the Bridge District, and has endorsed the current plans for the Bridge District. He believes Main Street, however, must carry its own weight.
"I have always maintained that Main Street must be made a destination in itself," he said.
Former Mayor Paul Dyster, who began the journey to recreate Main Street and enhance the North End when he led the city, said if Main Street comes back better than ever, it doesn't matter who gets credit for the win, but that many advocates and activists have pushed for years toward projects that resulted in more attention to the city's rich history, the removal of the Robert Moses Parkway, and the restoration of natural plants and trees to the state park. 
"That's how it works," Dyster said about such successful urban projects. He cited former city historian Paul Gromosiak, and author and environmentalist Robert Baxter, for being among those providing outspoken leadership, drawing attention to the idea of environmentally sound parkway enhancements and increased promotion of the city's rich history, long before he was mayor.
"I've had the very great opportunity to stand on the shoulders of some great people like Paul Gromosiak and Bob Baxter who have been working on these issues for years before I became involved," he said. "We don't care who gets the credit."
VIDEOS ONLINE
Visit www.niagara-gazette.com to watch videos about Main Street's potential including:
• A Main Street walkabout with Mayor Robert Restaino detailing Main Street's potential 
• A conversation with Robert Richardson about Blue Cardinal's 40 Main Street properties 
• An interview with Anthony Vilardo, director of the state's USA Niagara Development Corp. about the $10 million Main Street award