EDITOR'S NOTE: This is the third part of a four-part series on Main Street running this week in the Gazette. Look for parts 1 and 2 on our website.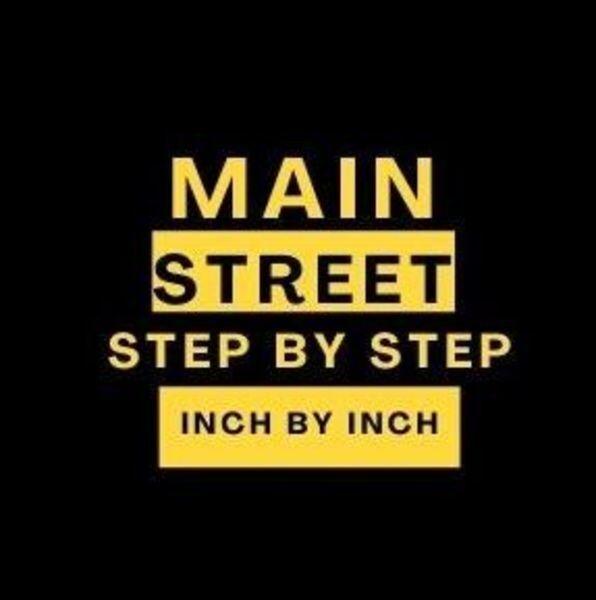 Bob Richardson has very big plans. But he does not like to get people excited. 
The company he founded, Blue Cardinal Capital, is leading efforts to restore the magnificence of the city's Bridge District on Main Street. The firm's purchase of 40 properties, mostly located on Main, is one of the reasons the city was awarded a $10 million New York state grant to fortify the district and pretty it up for a massive restoration effort.
The very bedraggled portion of Main Street where attention is being laser-focused is held together by vacant buildings leaning upon one another, yet dotted by relentless signs of hope from a few businesses like the Book Corner, Sass's Salon, B&B Cigar Store, and Linda's Main Street Cafe. Looming over it all is the decade-old fortress where the police and the municipal courts are headquartered. 
Drawing more potential to the district are two thriving bright spots; the Rapids Theatre, rebuilt into a glorious rendition of itself, and drawing music lovers from throughout the region, and just south and around the corner is the DiCamillo Bakery headquarters, beloved by nearly everyone who's ever tasted their aromatic bread and alluring desserts. The century-old bakery business is a mainstay some consider as important to the city as the magnificent waterfalls.
Added to the shimmer rising from the darkness is the new train station at the edge of the district, and the tiny gem that is the Niagara Falls Underground Railroad Heritage Museum. And of course, the new wildflower-bedecked greenway and bike path at the top of the Niagara Gorge, created from the destruction of the elevated Robert Moses. 
There are many good things happening in what is now called the Bridge District on Main Street. What weaves them together is the faintly beating heart of its main arterial.
For years, Main Street has been slogging along, the only consistent activity being at Heart Love and Soul Food Pantry, at the north edge of the Bridge District, where dozens come each day for free meals and caring social services; and the flurry of activity at the Public Safety Complex where the police department and the municipal courts reside.
Just before COVID-19 shut down the world, Blue Cardinal purchased a package of 38 mostly Main Street properties from owner Richard Hastings, with announced intentions of beginning the slow process of turning the street around. Richardson does not want to stir up too much excitement about the process. 
"I'm careful whenever I can to not inflate expectations," Richardson said during a walk down Main Street on a recent, hot summer day. 
He says restoring his company's properties on Main Street is going to take years — about 15 years by his count. Every building has its challenges.
He describes the overwhelming process of restoring the former Hart to Hart Furniture Building, a four-story behemoth with half of its roof falling in. 
He understands residents must feel impatient, watching nothing being done to the building since Blue Cardinal purchased it. The process has been agonizingly slow, he said.
"When we first started, we said, 'Let's put some roofs on these buildings and we'll go from there.'  But the first couple of contractors wouldn't even go into them."  
When he finally found a willing contractor, things moved to the next step — locate the architectural drawings of the Hart to Hart building. Except the drawings didn't exist. So they had to be recreated, several times. "We've done all the drawings of the current building. We have new drawings of all the stabilization work, and then bid drawings. You can't start until you have all that and that's months and months of work while there's a big hole in the roof."
"This is the rub here," he said. "It looks like we're doing nothing."
Richardson says there's a lot happening behind the scenes, but every step forward in such a giant effort takes time and there are always setbacks. The first major investor pulled out just before Blue Cardinal bought the package of Main Street properties. There were enough smaller investors involved to find the $3.2 million to close the deal, but Richardson has decided to do the remainder of the project with one main investor. 
He will not name the investor or investment group that is looking to fund the whole project. He describes the unsigned investor as one who is not doing it for a pat on the back, but because "they'd like to see a place of really national importance turn around."
When asked how much he thought it would cost to renovate all his properties, he said simply that the ultimate price tag would be, "...a lot of money." 
"The right answer to the question is whatever it's going to take. And (the potential investor is) somebody who is not worried what the ending price tag is going to be."
Richardson makes no secret of the fact his company is involved in the project to make money, though he is already engaged with responding to community concerns. He's asked Rev. Craig Pridgeon of True Bethel Church on South Avenue and former City Councilman Ezra Scott to create a committee and lead it, with the assistance of experts that he's hired to counsel them.
His plans are fortified by the support of the city and New York state. He has a good working relationship with Mayor Robert Restaino and former Mayor Paul Dyster, according to both the current and past city leaders. And he's earned the respect of a man who has watched the city's development progress from inside city hall for years.
Tom DeSantis, the newly retired director of Planning, Environment and Economic Development, was in the job for 27 years, through seven mayors.
He's watched advisory groups create plan after plan for the city's comeback, and he's seen his share of developers seeking something from the city and offering nothing. He's pretty optimistic about where the Bridge District is headed with Richardson and Blue Cardinal.
"Have they continued to pursue properties for purchase? Yes. Have they spent money to put financing in place? Yes. Have they talked to officials on both sides of the border? Yes," he said.
"It may not be what people are wanting to see or expecting to see but in terms of are these guys for real, I'd say, yes," he said.
To those who point out that no work has started yet, DeSantis replies, "They're not necessarily doing construction but they are doing things. There's a commitment. I don't see that going away."
The mayor has been meeting regularly with Richardson, and while admitting that "nothing ever works as fast as I'd like," he's willing to give Blue Cardinal time to unfold its plans. "I expect over the next two or three years you are going to see some significant change here on Main Street," he told a Niagara Gazette reporter during a walkabout on Main Street. 
Dyster, the former mayor who led the application process for the state grant, also speaks highly of Richardson. 
He remembers when he and DeSantis first met Richardson and his colleague from Blue Cardinal, sharing plans for the city's future, "They were finishing our sentences. They said, 'We've read all your plans. That's why we're here.' "
"It seemed to us he was in it for all the right reasons," Dyster added.
A more fervent message of hope and faith came from Sister Beth Brosmer, a recently retired activist nun, who for the last ten years has run Heart Love and Soul food pantry on Ontario Street, just off Main Street. 
Brosmer sat on the committee of stakeholders and experts who created a 250-page, demographic-filled plan to advise the state on how to best spend the $10 million grant to fortify and beautify Main Street, which came in part because of Blue Cardinal's intentions.
Since her retirement, the hard-working nun can be seen riding her tricycle around the downtown area, a picture of serenity. She thinks the new bike path at the edge of the gorge is glorious. "The wildflowers have been spectacular," she said. 
But she is ready to question any and all activity on Main Street. "We've been waiting a long time," she said. "Poor Niagara Falls. Something has to happen. You can be sure if I see anybody, I'm going to be asking. I want to know."
Her message to Richardson and Blue Cardinal was succinct. "Show me the goods, Bob, and get it done."
Richardson, an American citizen who lives in Canada with his wife and young daughter says that he knows something that many don't. The Canadians need Niagara Falls USA. 
"Nobody from here has been to the other side in the last 18 months. It's a different place. The housing situation in Niagara (Ontario) is off the charts and the reason for it is a good reason," he said. 
"The whole force of Toronto growth is coming to this border and if you don't realize that and you don't understand what that means and how to take advantage of it," he said, gesturing to the stretch of Main that could change under his watch. "This is going to look really good to those people in Toronto."
In addition, efforts to bring the Go Train to Niagara Falls, Ontario, means a closer connection to Niagara Falls, USA. 
"The Go Train coming to 180 yards from here means I can live here as an American and work in Toronto," he said, "and this is the only place you will be able to do that. You are going to want to live in Niagara Falls."
TOMORROW: The stakeholders talk about Main Street restoration. Some believe, some don't. 
VIDEOS ONLINE
Visit www.niagara-gazette.com to watch videos about Main Street's potential including:
·A Main Street walkabout with Mayor Robert Restaino detailing Main Street's potential 
·A conversation with Robert Richardson about Blue Cardinal's 40 Main Street properties 
·An interview with Anthony Vilardo, director of the state's USA Niagara Development Corp. about the $10 million Main Street award